Thank you for contacting Husong Roofing Service, a representative will contact you shortly.
Contact Us
Smart Start Starter Shingles

Smart Start Starter Shingles are specifically designed to increase protection against moisture intrusion and blow-off.

Right Start UDL

The Right Start UDL fiberglass NEX polymer modified underlayment is a water-resistant underlayment for steep slope roofing applications

Arctic Seal

The Arctic Seal underlayment protects against leaks when installed over the entire roofing deck and is very effective as a flashing membrane in valleys, rakes, skylights and pipe penetrations

Secure Start Synthetic Underlayment Line

SecureStart SG, SecureStart Plus, and SecureStart Permeable are mechanically-attached, water resistant underlayments for field application on steep slope roofing with asphalt or other roof types.

Hip and Ridge Products

The Malarkey Hip and Ridge family of products offers several options, including our high-profile ridge EX-Ridge(8") and EZ-Ridge XT(10") along with our standard low profile Ridge Flex (10" and 12"). All hip and ridge products from Malarkey feature Scothcgard Protector from 3M NEX polymer modified asphalt, and a high performance UL2218 Class 4 impact resistance rating.

Windsor Starter

Windsor Starter is blended to match the Windsor shingle line, features Scotchgard Protector from 3M, and made with NEX polymer modified asphalt technology.
Secure Choice System
The Secure Choice roof system by Malarkey Roofing Products is a family of residential products to support our many shingle lines. Beginning at the roof deck, the system includes underlayments, as well as starter shingles, field shingles, and hip and ridge shingles. These products are manufactured and controlled for quality and dependability. Together, the components of the roofing system assure homeowners that their choice is a Secure Choice.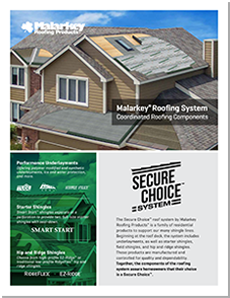 Learn more about the Secure Choice roof system in our brochure
View Brochure

Go Back